I got up early yesterday to drive to Grayling for my Fishing Adventure with my oldest brother, a fly fishing junkie. He cannot get enough of the sport. Every spare minute is spent with a rod in his hand; he is never without his gear. He had planned this trip for over a year, ever since I first told him I had signed up for a casting class. I found out this week that he made reservations for our guide and motel way back then.
The drive up was beautiful, if a little stressful. About half-way up, a heavy fog settled in. There was a pickup truck in front of me, I knew he was still there because we hadn't passed an exit, but he didn't have his lights on and completely disappeared in the fog. I had to trust that he was keeping the same steady speed that I was.
When the fog began to lift, the deer appeared. Most of them ran accross ahead of the pickup, sparing me the brunt of the surprise. When the truck pulled off an exit about 50 miles south of my destinstion, I became even more vigilant but the deer took pity on me and stayed at the side of the road. I saw several, including one doe licking her tiny spotted fawn. I saw other critters, too, too far ahead to identify; bog enough to be small bears but more likely large raccoons, I suppose.
I arrived early at our motel. It is super cute and country, with memorabilia all along the inside hall and bedrooms done up with crocheted pillows and quilts and baskets of dried flowers.
My brother usually arrives first but I wanted to show my appreciation, in part, but being early and eager.
We had a great day on the river, such a magical ride in a flat-bottomed fishing boat. Our guide, Charlie, was interesting. He is a retired special ed junior high school teacher, and has spent years as a fishing guide here and in New Zeeland, and traveling the world with his mandolin. I didn't hook anyone but myself - no fish, but no trees or other people, either, so it could have been worse. My brother caught several small trout, but none to brag about. We saw swimming muskrats and merganser ducks, and met up with several outspoken Canada geese. I love my brother and it was fun for me to spend the day with him.
I drove home after we had breakfast this morning. My brother will fish the rest of the week, but I need to focus again on my new job. The Fishing Adventure was a wonderful way to create a buffer between the clang of New Orleans and the pull of my work. Quiet time in nature is a great restorative, and I loved every minute.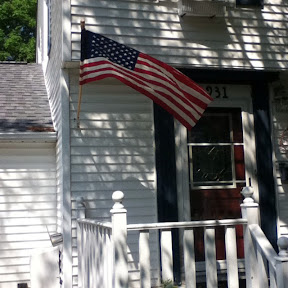 The first thing I did when I got home was put up my flag. Happy Memorial Day, everyone.
Posted using BlogPress from my iPod